So, surgery day has finally come and gone. It was a bittersweet day. Creating more pain to fix the chronic pain, not my idea of a solution but it was necessary. I had to have a hip arthroscopic surgery for my chronic severe hip pain since 2008 after a horse fall. They had to pull out my femur quite a bit to access the joint with the scope. Then they found torn cartilage which had given access for the bones to rub each other down. So they had to saw down the bones to smooth out the surfaces, and repair and stitch up the cartilage. My surgeon was absolutely amazing, one of the best surgeons for this surgery so that's why I had to travel for it unfortunately. After going through many many different doctors, tests, every other sort of 'treatment', and years of pain I'm so glad it has finally come to an end, for the most part at least. Worst part is over but now I get to start rehab. I won't be back to full athletic ability for about four to six months. But hey, this is definitely a turn for the better. Sorry for all the photos, I'm just so happy that my pain is finally over. Maybe now I can walk or go up a set of stairs without pain, let alone run or go horseback riding again. We shall see. All I know is that I will never forget the constant feeling of Andrew's hand holding mine the entire time I was struggling. It was the first thing I remember waking up and it was the last sensation I felt when I fell back asleep. He has been there with me from the beginning and I know he will be there with me till the end of all of this. I will never forget all that he has done to help me. It has been such a long journey and I am just so happy beyond words that I'm over the hill.
Taking my last few steps of freedom, from the hotel to the hospital.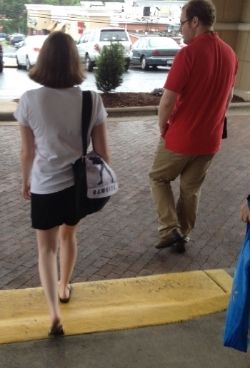 Almost ready to go back, glorious hairnet and all. Getting pretty nervous, happy meds can only do so much.


Finally out of surgery. Definitely still groggy and out of things. Took a long time to come out of the anesthesia fully. Actually had a lot of breathing problems afterwards and wasn't getting enough oxygen. It was a terribly long night in recovery. Note all the blankets, I had to have five. Funny part is, I was put in the cancer ward. Made quite a confusing night for the nurses watching me.



Big moment. Finally well enough to be discharged! Definitely a happy moment. First meal was a good ol' pb+j and it was glorious. The ice cream was even better. Anything is better than jello and mushy nasty hospital 'eggs'.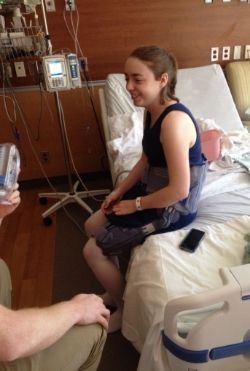 Even bigger moment. Made it to my first steps finally. There is a ton of immense pain and a lot of rules and do's and dont's I have to follow now. I have to wear all sorts of stuff like my brace whenever I'm up and about, dressings, tights to prevent blood clots, a CPM machine eight hours a day, and braces to hold my feet and legs in place when I'm laying down. Plus rehab five times a week on top of at home exercises.



Home finally!! Comfy bed, real food, and all my movies and fun bed-ridden stuff here I come.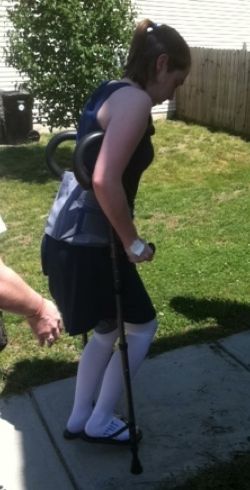 Chilling and getting some rest finally. Still doped up on all of my eight medications. My medication schedule is ridiculously crazy. And of course m
y ever faithful kittyman is happy I'm back home. I'm so glad to see him again. Haha and that is me making fun of all the stupid duck face pictures out there, don't take that one too seriously.
WARNING: These are not for the faint of heart.
H
ere are some of the pictures from during the surgery if you all want to see. I didn't post the bloody ones just cause I was worried it would be too much for you all.